Tom Ford has finally returned to directing a feature length film after 7 years. His last film, 'A Single Man', earned great critical claim as well as a nomination for it's leading actor Colin Firth at the Academy Awards. Despite almost a decade going by, Ford has created another fantastic feature that may have the same result for some its cast members.
Susan (Amy Adams) is a successful LA art gallery owner, who seems to have a perfect life with a handsome young husband (Armie Hammer). However, not everything is perfect as people do not see what truly bothers her. When her husband is away, she is sent a manuscript from her ex-husband Edward (Jake Gyllenhaal). The script features a dark tale of a family vacation going very wrong. As Susan continues to read, she is forced to confront her past and some dark truths.
'Nocturnal Animals' is by far one of the most interesting films in terms of style this year. Director Tom Ford uses his background as a fashion designer to create a beautiful, sleek looking movie that is a pleasure to view. Ford's creation can only be defined as art as he creates something truly remarkable. Ford's use of parallels work beautifully within the story as Edward's novel reflects Susan's current life situation in a way that words could not. It's Nicolas Winding Refn like at times as there is minimal dialogue during certain scenes as the visuals tell the story on their own. Each scene is perfectly crafted with a key eye for detail clearly overlooking it. Ford does a fantastic job with this film and I wouldn't be surprised to see his name mentioned during award season.
Ford manages to make this an emotional rollercoaster but not in a way that you would particularly like. The film is horrifying and heartbreaking as the film demands your attention. You are gripped into this film and are taken on a thrill ride with unexpected twists and turns that will make you feel everything from fear to anger to relief.
The plot has Amy Adams' character Susan reading the manuscript of her ex-husband with that story being brought to life in the film at the same time. This was very intriguing and unique to see in a sort of fictional inception with stories happening within stories. It seems to be a very risky technique that Ford went with as you run the risk of their being one story that completely overshadows the other. However, the stories are both very interesting which keeps you glued to the screen. I won't lie and say that I didn't prefer one to the other but it cannot be denied that both aspects are equally as intriguing. Both parts could even feature alone in their own movie but together, they create a masterpiece.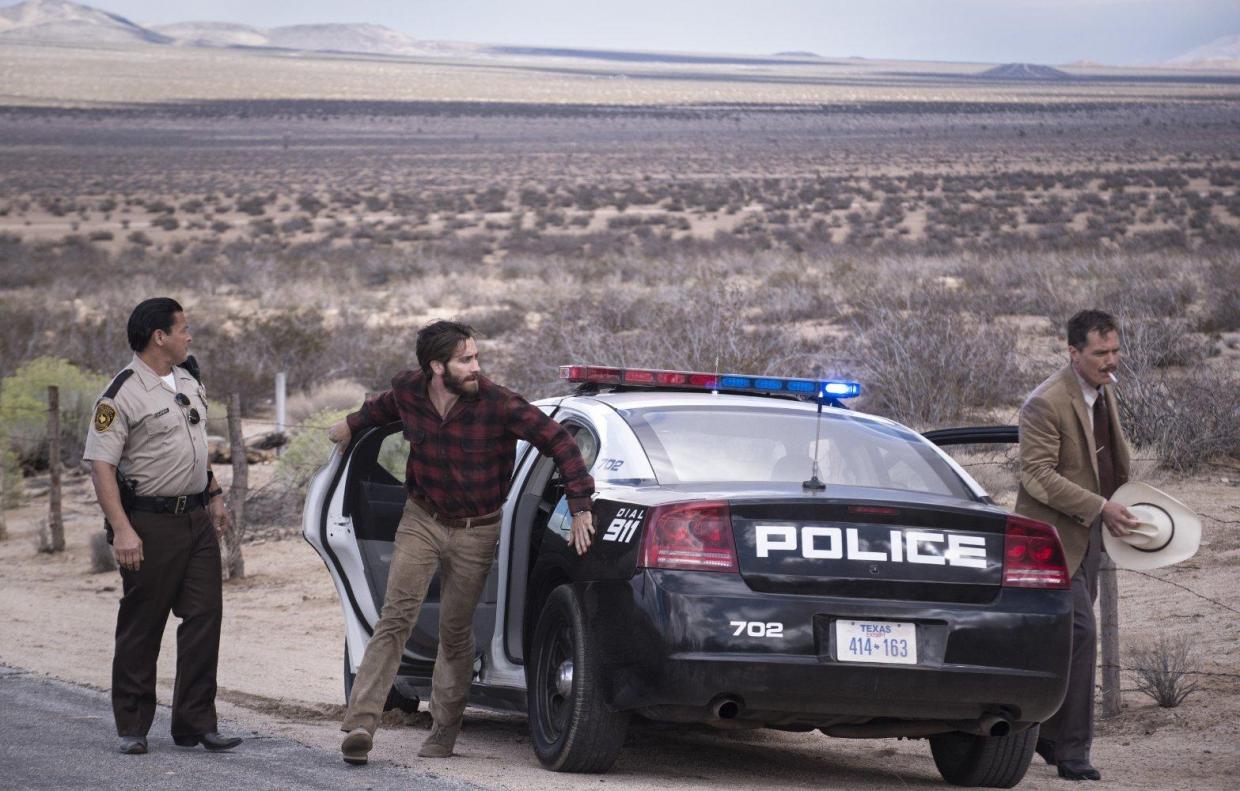 The story that Tony sends Susan seems to resonate deeply with Susan as she notices a pattern in some of the events. Tony dedicates his brutal, revenge-driven tale to his ex-wife with moments of the novel reflecting the relationship the two previously had. In many ways, this is Tony's revenge on his ex-wife who betrayed him in a time of struggle that is shown in some great flashbacks. This is made even more evident in the very effective finale which I won't go into too much detail about. The book creates a reflective period for Susan as she looks at past actions, making her feel guilty, as her life seems to be getting worse as the film progresses.
As award season gets closer and closer, I'd be very disappointed if none of the talented actors/actresses starring in this film is not nominated. Amy Adams is a contender with her performance as the emotionally effected Susan who seems to have a great life, but deep inside is hurting. It's another great performance from Adams which just seems to be expected nowadays. The biggest contender has to be Jake Gyllenhaal who plays two characters in the film; the real life Edward and the protagonist of the manuscript Tony. Gyllenhaal is marvellous yet again as the two characters, especially as Tony where he shows great range and excelling with the emotional moments. It's about time that he is recognised for his work in recent years after being snubbed when it was more than deserved *cough* 'Nightcrawler' *cough*.
One of the strongest parts of the film comes in the performance from Aaron Taylor-Johnson. Taylor-Johnson usually plays a likeable character that you root for but he completely transforms in this role. I couldn't believe that this was the same guy from 'Kick-Ass' as he was so relentlessly evil as Ray. He plays a huge role in the manuscript side of the story as his actions in the story really grip you and make you want to know more immediately. This performance surprised me so much as I did not expect to see him as this sort of character but he nailed it. This is a performance where you don't see an actor but a real person. One of the most effective performances in a film this year as he was so despicable. Fantastic work and I hope that it is recognised with some nominations.
Michael Shannon almost guarantees a solid performance and he delivers yet again. As the sheriff who helps out Gyllenhaal's Tony, he is a perfect contrast to the character. Shannon is brutally honest with a tough demeanour as he looks to help the broken Tony. Both are suffering in different ways and reacting to those circumstances differently, with Shannon's character not letting his sickness get in the way of his job. Laura Linney also appears as Susan's mother and her class is ever as evident. She is only in a handful of scenes but her presence is well known as her and Adams knock it out of the park. This works very effectively further on in the film as we see Susan reflect her mother, despite her wishing for that to never end up happening to her.
Patience is a key factor in this film as it really doesn't rush to make its point. This is evident throughout the whole film but most effective in the first part of Susan reading the manuscript. As the story shows Tony and Ray's first encounter, you expect that something bad is going to happen and the film tricks you a few times into expecting it. This adds an incredible amount of tension to the film as it slowly builds up and then delivers an incredible outcome which makes you want more. This is a key feature in the film and is very effective throughout the runtime.
Overall, 'Nocturnal Animals' is one of the best films that you will see this year. This film is intense, gripping and shocking creating a fantastic viewing. I can't recommend this film enough as it showcases everything great about cinema. Tom Ford deserves huge credit as does his talented cast, whom hopefully will be snooping around during awards season.
Final Verdict =
So have you seen 'Nocturnal Animals'? If so, what did you think of it? I hope that this review was useful for if you were planning on seeing this film, which I cannot recommend enough. Once again, thank you for taking the time to read my review, it is much appreciated!
By Angus McGregor